The largest telescopes in Andalusia available to the public
Explore the universe in the heart of Andalusia
Both for beginners in astronomy and for the more experienced, it is advisable to enjoy a guided experience with professionals or experts who advise you.
To do this, from Sky Andaluz we will help you take the first steps with guarantees of success, giving us all our love for the stars and the great astrotourism complex that we have built.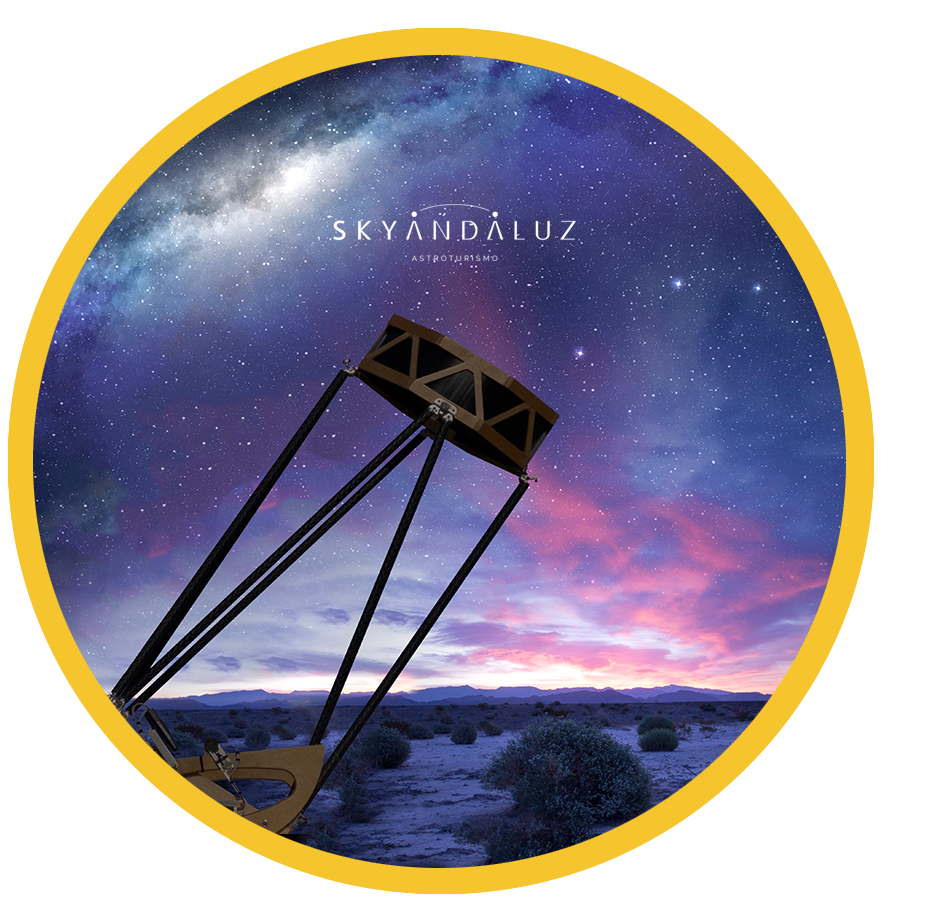 Passionate about astronomy that will give you a unique experience.
The best enclave in Andalusia for stargazing.
The largest telescopes in Andalusia available to the public.
Enjoy projections of scientific content created by the New York Museum of History itself.
Presentation of the Universe
INDIVIDUAL
Price per person
Presentation of the Universe
EXCLUSIVE
Limit 15 people
A personal or group visit

Presentation of the Universe
WHAT DO THEY SAY ABOUT US?
Our customers recommend us on Google Maps
Luife Martínez
30/05/2022
Una experiencia que no hay que dejar pasar. Los equipos impresionantes, las instalaciones fantásticas, y lo mejor el trato de Stephan y de Flavia. Muchas gracias, volveremos.
Un lugar ideal para observar el cielo estrellado y sus secretos como galaxias y nebulosas con sus magníficos telescopios con amigos y familia.
Juan Manuel Martín
29/05/2022
Una experiencia muy recomendable. Algo distinto que sin duda alguna no olvidareis. Repetiremos en cuanto podamos. El entusiasmo y la profesionalidad con la que explica Stephan todo no os dejará indiferentes. Una experiencia 10
ElPecador Delapradera
29/05/2022
Sorprendido por como en mitad de la nada, en una gran meseta a más de 1100m de altitud una pareja de guiris ha montado este tinglado astronómico. Han construido un pequeño centro de visitantes, un miniplanetario, y tienen 2 telescopios enormes que hay que subir en escalera para mirar por ellos. Merece la pena la experiencia, sobre todo en verano en que se levanta imponente la vía leactea.
Impresionante!!! Inolvidable experiencia que no se puede hacer en otro lugar. No dejen de ir que se guardara en su memoria como uno de esos momentos que se llevan para siempre en el corazón Gracias Stephane por la energia y nos estaremos volviendo a ver pronto!
Karina Celestre
29/05/2022
Uno de los telescopios más grandes de España! Volveré!! Lo recomiendo!
Great night at sky Andaluz with our hosts Stephane and Flavia. A very informal evening making for a relaxed atmosphere. Stephane's enthusiasm for our night sky is very infectious and only makes you want more , great job all round.
Simón Alvaro Muñoz
27/05/2022
Salgo de SkyAndaluz, me subo al coche y según arranco, meto la primera y empiezo a avanzar, un pensamiento me golpea la cabeza: ¡Guau, acabo de viajar en el tiempo! Literalmente. Parece que iba a ser una visita a un Centro Astronómico en Granada para ver, a través de telescopios, Galaxias, planetas o supernovas, pero fue mucho más. Algo que muy pocas veces me ha pasado: me hizo repensar en mi propia existencia, pero sobre todo, cómo era posible que estuviéramos viendo a través del telescopio objetos astronómicos en tiempo pasado. Sí, sí, en tiempo pasado. El primer objeto que vimos estaba a 4 años luz de aquí, lo que significa que estábamos viendo lo que correspondía a lo que pasó en esa estrella hace 4 años. Es decir, si desde esa estrella alguien estuviera viendo a través de un telescopio como el de Sky Andaluz a nuestro planeta, estaría viendo a Álvaro de hace 4 años, no el de hoy. Una paradoja que me dejó alucinado. Otro tema que me dejó sin palabras fue la explicación del Big Bang. Qué tan difícil es entender de manera racional cómo un diminuto punto, más pequeño que un átomo, contuvo una densidad y energía inimaginables de las cuales brotó todo lo que existe. Solo puedo dar las gracias a Stephane y Flavia, que desde que llegamos al centro nos recibieron con una gran sonrisa y nos explicaron qué íbamos a ver, primero en el planetario y después a través de los telescopios. A modo de spoiler, solo deciros que en el planetario vimos dos películas, una creada por el museo de historia natural de Nueva York en el que nos explicaron los inicios del universo de una forma muy amena y otra de la agencia europea de astronomía. Después es cuando pasamos a ver los objetos en los telescopios y ya vimos una estrella que estaba muriendo, una galaxia que existió hace 8000 millones de años, una nebulosa llamada ojo de gato, una pasada sin igual. Una experiencia única en mi vida
Stephane visited us in the camp. He explains complicated topics using very simple examples and is understandable to everyone.  He knows how to create an interest in students.Definitely going to call him again.
Anton Dementyev
17/05/2022
Amazing experience
First hour - Presentation of the Universe
Inside the planetarium:
Its spherical projection and surround sound will delight the public while they enjoy projections of scientific content introducing the universe and the instruments that allow it to be discovered.
The film has been created by the New York Museum of Natural History.
The two largest Dobson telescopes in Andalusia available to the public.
The complex has two powerful Dobson-based reflecting telescopes with which to observe planets, nebulae, galaxies.
Video photography (30 min)
Video session and / or photographs of what has been seen previously.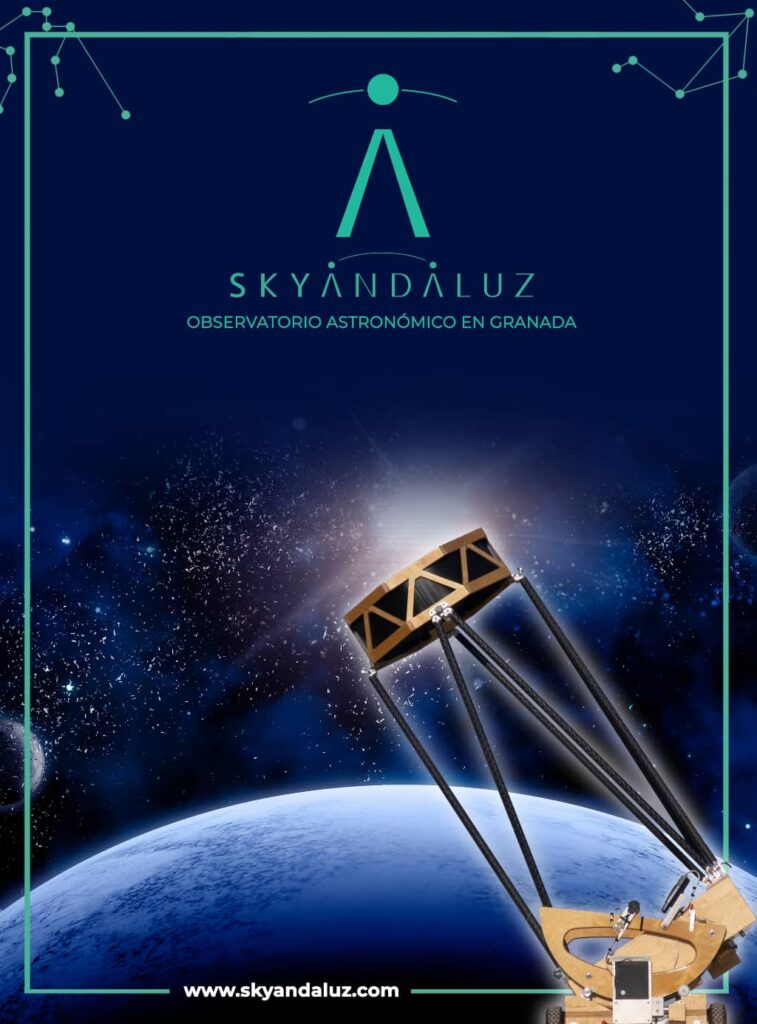 It is a different way of doing tourism ; an option to enjoy nature, and at the same time the mysterious magic of the night.
There is nothing more immense than the universe. That is why astronomy is a science with great possibilities and ways to enjoy it. In this sense, we find a multitude of options both for people who are passionate about this science, and who already have some experience, as well as those who are looking for start in astronomy for pleasure and curiosity about the sky around us.
This is where the role of astrotourism comes into play, bringing people of all ages closer to fascinating activities to learn about the mysteries of the universe and observe them from our small and amazing planet.
The sky changes every hour, and also significantly every season or depending on the phases of the moon. For this reason, this type of tourism never offers two equal experiences, and this is one of its great attractions.
Every time you enjoy an astronomy activity, you will see that the experience has been totally different from the previous one. And surely you will be impatient to feel the emotion of observing the night sky again at a different time.
Given the growing interest in enjoying this tourism , there are more and more activities and experiences to discover astronomical events that can only be observed from certain areas of the planet.
The companies that offer this type of activity take advantage of spaces and populations with little light pollution. Since these are the areas, they are the most suitable for making available to tourists all kinds of professional optical instruments for viewing the night sky.
Where can you practice astrotourism?
In order to enjoy all the emotions and knowledge that practicing astronomy gives us, it is important to travel to those places that allow us to contemplate the cosmos in all its splendor.
This search for adventures and new experiences is one of the motivations that move tourists to want to observe the sky from different places. Since as we said, there is no night like another. Finding a good place to offer astronomy activities is not exactly easy. It is true that there are many areas without light pollution where the night sky looks spectacular, but this is not the only thing to look for.
At Sky Andaluz we carefully study the location of our observatory. We had set out to find the perfect place to put our own large telescope, where the weather would not be an impediment.
After assessing the option of settling in Andalusia or in the south of Greece, we decided that Granada would be the perfect place to share our great passion and bring the night sky closer to families, couples, groups of friends or self-taught enthusiasts at the idea of contemplating the wonders that the universe hides.
The enclave of Alhama , where we are, is a place with extraordinary conditions to enjoy an unforgettable experience. We are surrounded by an incomparable landscape beauty, far from the big cities and their lights, and also from the pollution of large industries. This allows the environment to enjoy clean and bright skies.
Another of the attractions of our location to practice this tourism is its lofty geographical location, where the clouds disappear so that there is no obstacle in our astronomical observations.
For all those who plan their trips in search of new experiences, this location has the great advantage of being close to other idyllic places to contemplate the night sky , such as those found in the neighboring mountains of Jaén.