Live a unique experience
and discover the ends of the universe
ASTRONOMICAL OBSERVATORY IN GRANADA
Sky Andaluz is situated in a piviliged geographic location to promote astronomical observation in Andalusie.
The complex has two powerful Dobson-based reflecting telescopes with which to observe planets, nebulae, galaxies
Its spherical projection and surround sound will delight the public while enjoying content projections.
The observation center has a reception, including a toilet, a pergola for picnic and rest, and a disinfection area.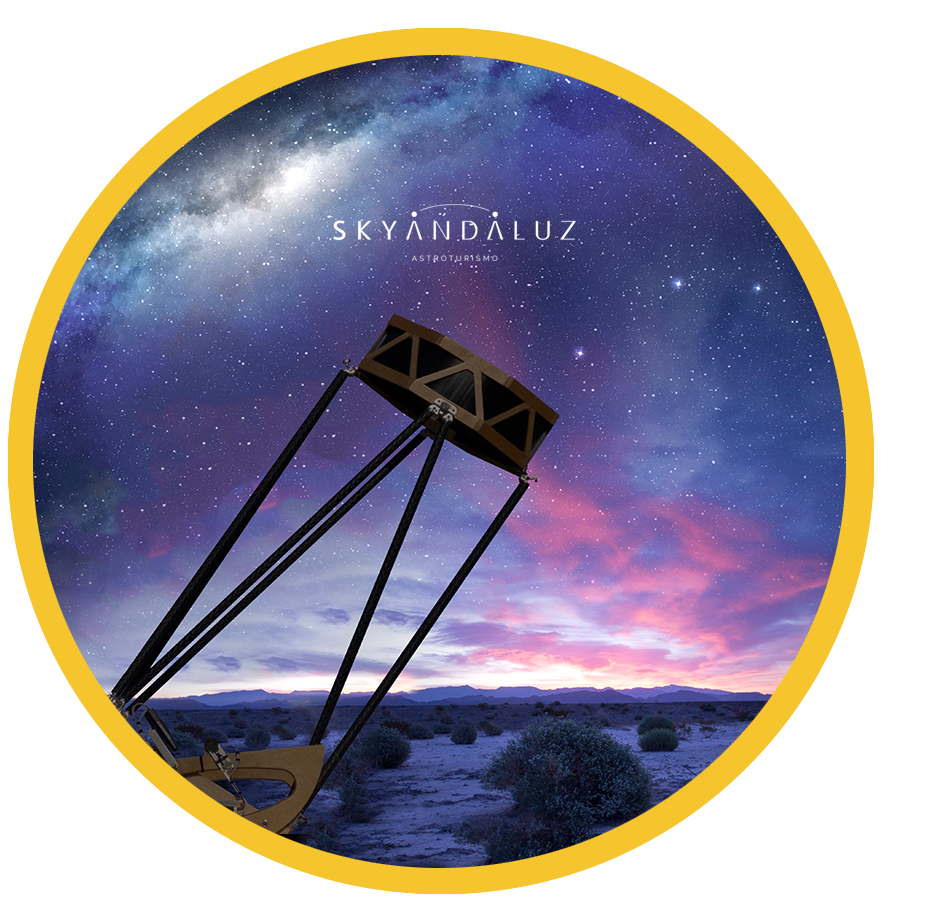 Choose the type of ticket you want to buy:

Sky Andaluz launches its club for astronomy enthusiasts. We will have a lot to talk about and enjoy sharing our passion.

Watch your kids fall in love with astronomy as they travel on an adventure through space in our planetarium.

Sky Andaluz welcomes schools, children and youth groups organized by other entities. Write to us to arrange it.

Save money by booking group tours for 15 people. You can also reserve it for you and your partner and have a unique experience.
Who is behind Sky Andaluz?
My passion for astronomy started when I was around 7 years old and I received my first book on the subject, and I was hooked. Now I have set up a planetarium in the Sierra de Granada to teach and share my passion for astronomy.


Andalusia being a reference in astronomical tourism for Europe because of its weather conditions, it is still not exploited as it deserves. With this astronomical observation center we want to reverse this situation and position Andalusia as it deserves by offering first-rate facilities.
What catches my attention in the sky are not so much the objects as the galaxies, nebulae and clusters. What attracts me are the clusters: the constellations, the history behind them and how they served mankind since the beginning of time for location and the notion of time.
When Stéphane proposed Sky Andaluz to me, I didn't think twice. It was time to look through the telescope and not through the microscope as I did for so many years!
Presentation of the Universe
INDIVIDUAL
Price per person
Presentation of the Universe
EXCLUSIVE
Limit 15 people
A personal or group visit

Presentation of the Universe
WHAT DO THEY SAY ABOUT US?
Our customers recommend us on Google Maps
Ce fut un immense plaisir de faire cet expérience, non seulement les équipements sont supers, mais c'est surtout l'amour, la passion , le partage de ce couple pour l'astronomie qui a irradié ma soirée, vous y serez reçu comme des amis. 🙂 🙏
Armando Retamero
31/12/2022
Una experiencia fantástica al igual que el trato de Flavia y Stefan. Sin duda volveré a repetir. Un regalo para recordar siempre.
Super accueil un beau moment Flavia et Stéphane sont passionnés et ce fut un réel plaisir . Un grand merci pour cette belle soirée. Je le conseille vivement.
Владимир Титарчук
26/12/2022
Дякую за сімейний прийом, та пізнавальну подорож у Вчесвіт !!
Геннадий Демченко
26/12/2022
Очень интересное место . Безумно интересные владельцы . Очень позитивные люди .
Un immense MERCI à Flavia et à Stéphane pour leur extraordinaire accueil, des precisions et accompagnement avant visite aux boissons chaudes de fin de soirée qui font un bien fou. Votre générosité, votre passion pour les mondes des étoiles et toutes les anecdotes qui font clin d'œil nous ont fait passer en famille un moment magique sous la voûte céleste de ce site superbe entre Malaga et Grenade que je recommande à tous les curieux, ou trop proche des villes… vous pouvez y aller les yeux grands ouverts pour une formidable expérience. Le bonjour de la région lyonnaise et continuer de nous émerveiller à travers vos paroles et ces télescopes!! À bientôt, Michael.
David López Jiménez (Orion)
23/12/2022
Sitio estupendo para ver las estrellas y aprender, la pareja que lo lleva es fantástica y te explica todo estupendamente. Vimos Saturno y la nebulosa de Orión y más cosas y volveremos en verano para seguir viendo más cosas. Muy recomendable
Antonio Alvarez
18/12/2022
Sorprendente !!! Que Stephan y Flavia hayan traído a nuestra comarca una genial instalación para tener la oportunidad de observar y aprender aspectos del Universo. Son muy acogedores, y transmiten su conocimiento de una forma asequible para todo tipo de público. El telescopio es impresionante y se observan los detalles de los planetas, estrellas, galaxias, etc. Antonio Álvarez y Amparo Castro.
Wow, wow, wow… Esto no fue solo una visita a un Centro Astronómico, sino una experiencia personal, humana, llena de pasión, amor y entusiasmo. Stephan y Flavia, los fundadores y creadores del centro SON unas personas MARAVILLOSAS y entusiasmadas por el tema que saben muchísimo. Además, nosotros fuimos con nuestros hijos (y pensábamos que quizás se aburrirían) pero descubrimos que Flavia y Stephan tienen la capacidad de adaptarse super bien a quien le habla, ya sea explicar el Big Bang a mi hijo Pau (que después de la experiencia dijo que quería ser astrónomo, y Stephan casi lo adopta 😉 o hablar de temas mucho más complejos si se lo preguntas. ¿Lo mejor para mi? La sensación de estar junto a familia, (ya que ellos son una encantadora pareja) Tuve la sensación de estar visitando a unos tíos lejanos que nos mostraban "sus juguetes astronómicos" para que todos, grandes y pequeños, pudiéramos descubrir el cosmos juntos! Una experiencia única, fuera de lo turístico y masificado. Una experiencia mágica de la que nos acordaremos toda la vida. Gracias de todo corazón estimados Stephan y Flavia
If you have visited us and would like to leave us a review we would appreciate it! That's why we make it easy for you:
DO YOU WANT TO GET STARTED IN ASTROTOURISM?
We put at your disposal a complete experience to get closer to astronomy , with which you can acquire the basic knowledge for observing the night sky, differentiate the different celestial bodies live through our telescopes, and be fascinated by the incredible beauty of the universe, in our planetarium.
Come and discover the Sky Andaluz Astrotourism .
WHAT DO WE OFFER YOU?
Each visit to Sky Andaluz begins with an explanation of the experience to be had.
Stephane has been in love with the universe since he was a child, and since he discovered it, he has not stopped training in this science. That is why he is the perfect person to transmit this passion and how to get started in it, even if we have never stood in front of a telescope before.
The visitor center is the first stop on this visit to heaven, without taking your feet off the ground. In this open-air space, you can enjoy a hot or cold drink while Stephane begins the initiation, visitors watch the sunset and exchange ideas about the stars.
The initiation to astrotourism in Sky Andaluz It is completed with the observation of the night sky. To do this, in our star observatory in Granada we have the largest telescopes in Andalusia dedicated to observation by astronomy lovers.
The complex has two large Dobson-based reflecting telescopes. With them it is perfectly possible to observe planets, moons, stars, galaxies, nebulae, clusters and many other wonders that will leave you fascinated.
In addition, there are additional areas enabled to place other types of telescopes and observe the night or daytime sky.
Inside our planetarium, continues the journey through the stars. We have a space of six meters, with spherical projection and surround sound, where astrotourists will enjoy projections with scientific content, an introduction to the universe and the instruments that allow us to discover it.
Astronomical observations
Stars, Constellations and Planets offer us images of great beauty and the skies of Andalusia have exceptional conditions to observe this whole world, which despite being so far away will seem to be in our hands.
The spectacle that the sun offers when it hides and night falls, giving way to thousands or millions of sparkles that will transport us to another era or rather to another planet.